How do I know if I am new or returning?
Returning organizations are on this list.
---
First things first: Make sure you are logged in with your username or you have redeemed an invite. See our knowledge base for more information.
If you register a new user and/or activate a new portal account you could potentially erase anything previously in the system.
Application
2020 Temporary Changes
All 2019 approved nonprofit organizations are automatically rolled over for 2020 under the following conditions:
Current registration status with the Washington Secretary of State charities program as of 5/11/2020. Click here to search

. We have already pre-vetted you. Please see your email for further information if action is needed.

Provide data for our tiered financial review question (it will not be used for eligibility just for evaluation.) Access on Part 2: Eligibility.

Click the carrot (down arrow) next to the application in progress.
Choose Modify Finance Section.
Answer questions.
Click Submit.
Done!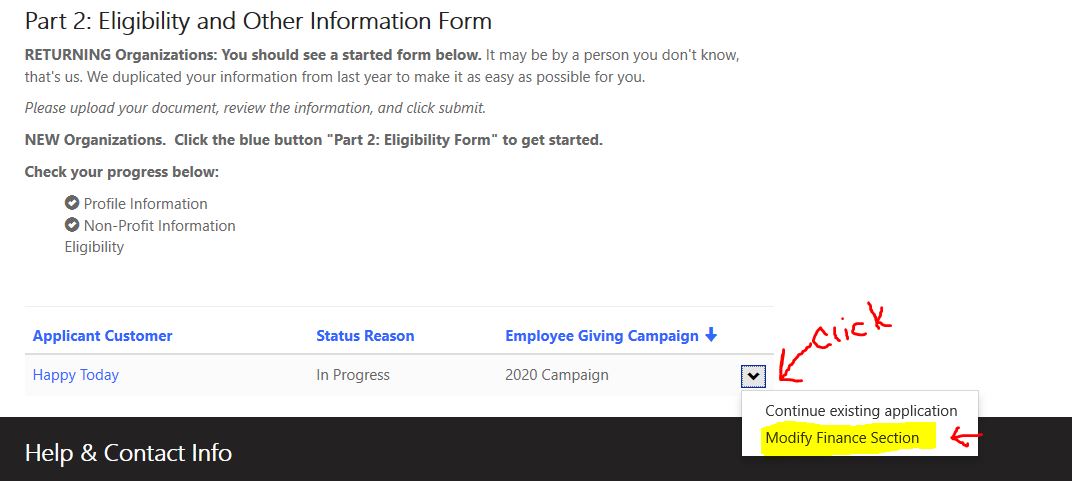 We highly recommend logging in and reviewing Part 1: Account and contact information.
Continue to the review Part 1 by clicking below: